Foundations on the Hill
Foundations on the Hill (FOTH) is a two-day event for foundation executives and staff, board members and philanthropic leaders to meet with their federal lawmakers in Washington. Hosted by the Forum of Regional Associations of Grantmakers, the gathering brings foundation leaders to DC for meetings with Congress about key issues of importance to foundations and philanthropy. Annually, the Council brings a delegation of CNJG members to meet with representatives of New Jersey's Congressional offices.
The overall purpose of Foundations on the Hill is to:
Inform and educate Congress about philanthropy
Create visibility for foundations and philanthropy on Capitol Hill
Advocate on issues affecting foundations
Encourage Congress to view foundations as resources on key public policy issues
---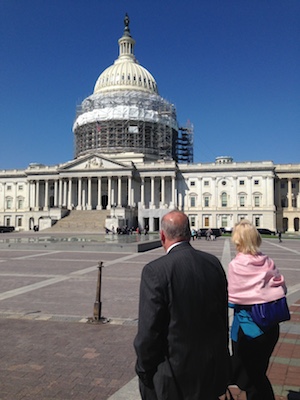 The FOTH event was last held on April 1213, 2016. Over 160 grantmakers and foundation leaders from thirty-two states and Washington D.C. attended the annual Foundations on the Hill 2-day event to visit with our Congressional Representatives. The Council was pleased to meet with all twelve of our Congressional offices and both of our Senate offices on April 12 and 13th. The CNJG delegation included: Sam Crane, Essex Equity; Bill Engel, The Hyde and Watson Foundation; Kiki Jamieson, The Fund for New Jersey; Marion O'Neill, PSEG Foundation; Charlie Venti, The Nicholson Foundation; and Nina Stack and Theresa Jacks.
Charlie Venti was also among the approximately thirty grantmakers that attended a special Makers Meeting at the White House's Eisenhower Executive Office Building. The White House Office of Science and Technology Policy invited FOTH participants to a meeting focused on the President's "Nation of Makers" Initiative and ways to catalyze more involvement in the initiative in communities across the country.
The main goal of our annual visit is to strengthen and build the Council's relationship with our elected officials and their staff; to share philanthropy's role and impact throughout our New Jersey communities; and to encourage Congress to view foundations as resources on key public policy issues. As our leaders consider and debate the changing role of government and the expectations for the social sector, this annual trek offers the opportunity to ensure New Jersey's Congressional Representatives truly understand how foundations are contributing to the very fabric of our neighborhoods and improving the lives of our state's people.
Foundations on the Hill is hosted by the Forum of Regional Associations of Grantmakers, in partnership with the Council on Foundations. For a quick wrap up see the Storify feature from the Forum and also read a post-event essay from Forum President, David Biemesderfer.